5 key contact centre trends that are influencing TelXL in 2022 and beyond
It is clear that the challenges of COVID and the emergence of new technologies, at record speeds, particularly in the communication and collaboration space, have changed contact centres for good.
Here at TelXL we have some exciting plans for our future product roadmap over the months ahead, based on the feedback of our customers, wider industry trends and new technology opportunities.
5 key trends

In this article, we have picked out 5 key trends that are particularly influencing our evolving proposition, to offer our resellers ever greater opportunities to enhance the value they offer their SME clients.
Trend 1 – Call personalisation
Traditionally, incoming calls are simply directed to the next available agent. Increasingly, characteristics of the caller, the agent and the nature of call are influencing which calls get handled by which agent, and the course the call takes.
In a world where 66% of customers expect organisations to understand their needs and expectations, callers into a contact centre have a number of characteristics which are likely to dictate their ideal experience: Research by logistics company Whistl illustrated that different customers have different expectations. The overall priority from a contact centre is a "fast resolution" (38%) – but for women rather than men, the number one factor was a "positive attitude and willingness to help". 55-64 year olds thought "reasonable" hold times were less than half the duration of 25-34 year olds.
The variations in expectations between different inbound callers are likely to be even more nuanced than that: A customer's time-sensitivity will vary with the time of day: a factor which shapes traffic profiles in the first place. A customer's digital confidence influences their channel preference and willingness to interact through AI, based on perceptions of chatbot reliability (Userlike).
In terms of call content, the complexity or novelty of the reason for calling will dictate the reassurance that is sought e.g. whether the call is an initial interaction or part of ongoing case.
Meanwhile, on the other side of the call, with the growth in channels, agents are characterised by having multi-dimensional skill sets (the channels they can use, their departmental/functional knowledge and experience-levels with different types of case and customer).
Skills are not the only reason that an agent is best placed to take any given call. Agent burnout is also becoming an increasingly important consideration since COVID: A study in January by MaxContact amongst 750 contact centre staff found that workload had increased considerably since the start of the pandemic and 83% of contact centre staff felt "burnt out" or that they will be soon. Might we imagine that agents who have experienced highly emotional and even abusive calls could be given simpler calls for a time afterwards?
Consequently, when a call enters the call centre, the next best set of actions for both customers and agents can vary according to all sorts of dynamics factors and vary by tine of day.
When databases and decision-support tools are integrated with communications systems, then it becomes possible for a business to respond to these challenges. We already see how integrated CRM data can determine which calls are routed to which agent and prompts can offer agents appropriate information or the caller, their outstanding issues and offer tactics to deal with it.
Progress is underway along this track, but we arguably remain a long way from realising the full potential of personalising customer and agent experiences to an optimal end, using data: For instance, we have thus far seen relatively simple interactions resolved using self-service IVRs. Conversely, we have yet to fully see the potential of where this segmentation of communication traffic might lead: it does not take a huge leap of imagination to think that busy working customers, calling for a bank transfer on their lunchbreak, might be directed towards a self-service AI channel, while a more vulnerable customer, with the same call purpose at the same time, might be directed to a skilled agent.
On the agent side, call centre data theoretically offers the opportunity to monitor correlations between call traffic, its content and absences..
Moreover, as AI gets more complex, business rules on routing traffic can be informed by intelligent and objective criteria, using past call data, rather than the more subjective or ad-hoc human choices.
At TelXL, we offer resellers and their clients the potential for personalisation in call experiences in a host of ways: For a start, our telephony products offer the users highly configurable IVRs and skills based routing, while also remaining easy to use and change. We will also integrate with databases that include but transcend CRM databases like Salesforce, to help organisations move further along the path of data-driven decision making.
Trend 2 – Choices abound with deeper, broader AI use cases
AI technology is starting to be used across the entire contact centre value-chain. AI is already providing compelling business cases. However, along with the rich opportunities for contact centres, there are both operational challenges and ethical dilemmas.
According to the latest research in Contact Babel's "Decision-makers guide", 26% of contact centres are already using AI and a further 28% are looking to implement in the next 12 months.
AI use-cases can be broadly split into those to 1) replace human work or 2) augment human work i.e. making human tasks easier, faster or more accurate. For instance, AI can replace the human work of an agent when authenticating customers using biometrics. AI can augment an agent's work when it is used to offer prompts to the agent during a call based on the course of the conversation. The argument that AI will completely replace agents is already looking premature as, despite AI uptake, Contact Babel's AI research showed that there has been a reduction in agent headcount at a rate of only -0.5%/year over 2017-21.
10 examples of AI applications in the contact centre:

Replace touch tone IVR's with voice-activated IVR, to better collect customer needs.
Transcribe calls so that they can be stored on customer records.
Provide self-service options to customers for simpler transactions.
Analyse call transcriptions, extracting meaning and sentiment, to provide reporting.
Propose 'next best actions' to agents in calls based on the calls content.
Predict customer buying behaviour based on the content and conclusion of a call.
Execute skills based routing based on the historic performance of agents.
Monitoring compliance and quality and flagging calls that don't conform to standards.
Providing agents and coaches with "best practice" call libraries from which to learn.
Automating personised intelligent responses to customers once a call has completed.
When we carried out research interviews with contact centre staff and managers in late 2021, we found a spectrum of approaches to AI, spanning companies seeking to rapidly deploy AI applications through to those taking a more piecemeal and measured approach.
While the business case may be compelling to pursue AI in several of these possible application areas, our insight found that the messy reality of organisation's legacy systems are contributing to them working at different speeds on their AI and automation journey.
As well as technological considerations, we found appreciation for ethical considerations with AI. These might be particularly important to highly regulated organisations in the financial services or the public sectors for example. The perception of AI was, in some cases, as important as the reality.
The longer term trend though is that the pace of AI technology development is showing no sign of letting up, as organisations overcome operational and perceptual barriers to adoption and vendors provide more applications and more compelling propositions. Pitchbook reported a surge of AI funding in 2021, in ideas such as H20.ai, which raised $100m to make AI usable by any kind of enterprise. Meta recently introduced their "next generation AI supercomputer", which is claimed to be the fastest in the world at processing AI data. As AI becomes more easy to use and more powerful, dilemmas on the application of the technology will increase as the possibilities increase.
At TelXL, we fully expect AI technology to continue to evolve at pace through the contact centre industry in 2022 and beyond. AI adoption in call centres will increase in terms of both the depth of the application (i.e. the extent to which it replaces human work) and the breadth (i.e. the number of tasks). Human work will be increasingly directed toward more challenging and complex call types, for which AI will augment rather than replace the agent. However, it will not become ubiquitous for the foreseeable future, as it augments agent's activities.

Call-centers will face an ongoing set of technological, operational and ethical questions on how they use these new technologies.

At TelXL, we will continue to integrate AI applications with our contact centre solution to help clients reduce costs while maintaining or enhancing customer experience.
Trend 3 – Evolution in customer expectations for speed
As consumers, our expectations are ever evolving, influenced most of all by the experiences we receive. We expect customers to respond positively, overall, to any changes that lead to interactions that reduce timescales and effort and increase first-time resolution.
For the most parts of our lives, we have seen progress in the speed of doing business. In contact centres, Contact Babel's research shows a somewhat contradictory picture of customers waiting for longer in queues, experiencing more abandoned calls and taking longer while on the call itself over time. (Its not all bad news that said – there has been reported improvements in first call resolution rates and simpler calls are getting migrated to other faster channels, like chat)
However, Contact Babel's data still gives pause for thought: service call durations averaged 255s in 2006 but 393s in 2021. Sales call durations that have increased from 280s to 457s in the same time-span. Abandoned call rates stood at 4.7% in 2004 but stood at 6.5% in 2020, before COVID impacts saw them spike at 8.2% in 2021. The latter means customers are having to repeat the loop on further call attempts.
There are two main strategies a contact centre might employ to counter this trend: Firstly, there is the approach of operational improvements: – optimising IVR, scripts and agent-resourcing can improve the queue and call time metrics for telephony. Secondly, there is the approach of substitution: migrating inbound traffic to other channels, including channels that are automated, to circumvent the phone lines. There are cases to do both, as there is always scope to improve operational performance, while the average customer-satisfaction with interactions through apps and websites is now higher than with phone calls, according to the UK Customer Satisfaction Index[1].
Our drive to shorten timescales has deep rooted and fundamental psychological reasons, so is not likely to be reversing: Delayed gratification incurs greater psychological and emotional effort than instant gratification. A recent study in Denmark also showed that the human attention span is narrowing over time, as more activities and information vie for our attention.
Now, leading voice bots vendors are claiming that they can resolve anything up to 80% of customers' calls, using conversational AI. The side-effect is that customers will naturally come to develop new expectations of the ability of an organisations technology to solve their problems – just as they have expectations of an agent to do likewise.
In this world of changing and evolving experiences and expectations, and ever more complex and personalised journeys, it is more important than ever to pay closer attention to "voice of customer" to ensure that expectations are being met as the service experience evolves.
[1] The Institute of Customer Service (2022), "UK Customer Satisfaction Index, January 2022: The state of customer satisfaction in the UK".
At TelXL, we offer several product features to help contact centres deal more quickly with calls – and deploy both a) optimisation and b) substitution strategies to maintain customer satisfaction: As well as our highly flexible IVR allowing organisations to optimise call routing, our ability to integrate chat bots offers the option to offer customers self-service, to avoid queues altogether; saving contact centres cost and allowing expensive agent resources to be deployed where they are most needed.
Trend 4 – Technology integration, the complicated drive for simplification
'Complexity' is set to continue to define many contact centres for the foreseeable future, under the various impact of i) change programmes, ii) COVID and iii) HR policies. Stakeholders, including call centre managers, agents and consumers, demand that it ultimately results in simplification.
Contact centres feel like they have been in a state of continuous change for several years now: impacted by GDPR, digital transformation programmes, omnichannel strategies, cloud migration and latterly COVID. Contact centres have faced requirements to change in areas spanning security, cost management, workforce planning and service resilience. Since COVID, organisations have increased their technology spending further and changed many processes, as workers move to home offices, leading to an "overlay" of further disruption.
For their part, 73% of agents already faced having to use three or more systems during a call (Contact Babel, 2022). The job of dealing with higher customer demands while working within a fast-changing environment, while using fragmented technology, has been testing.
In response, the attributes of 'agility' and 'simplicity' have become more highly valued amongst solutions. Agility is a strong motive for shifting to cloud-based infrastructure and away from traditional data centres and on-premise equipment. Simplicity is leading some contact centre decision makers to simplify suppliers, such as by moving to well-integrated UCaaS and CCaaS platforms or deploying top-down simplification programmes of legacy systems. Reflecting these drivers, Gartner reported that year on year growth in public cloud services was 23% in early 2021. We see little change in the trajectory in the years to come.
Customers have little patience to try and deal with complicated experiences either, or the fall out of organisations' complicated processes: Countless polls have found sentiments such as that 93% of customers are likely to make repeat purchases with customers that offer excellent experiences (Helpscot), and that businesses can grow revenue between 4% and 8% above their market when prioritising better experiences (Bain & Co). Conversely, 65% report switching brands because of poor experiences (Khoros) and only 1 in 5 customers will forgive a company that they rate as very poor (Qualtrics). Customer Effort – or rather its avoidance – is fundamentally correlated with such sentiments: survey company inMoment found that 96% of customers going through a high level of effort state they are likely to churn vs. only 9% of those who went through an effortless experience.
Therefore, any products and tools that can help a contact centre to offer consistent, seamless, effortless customer journeys are highly valued by all and never more so. Integrated technology has provided a key means of tackling complexity in the strive for simplicity.
At TelXL, our CC4SME contact centre solution is perfect for helping with simplification. We provide a seamless contact centre overlap to an organisation's existing UCaaS solution or Microsoft Teams, so that call centre staff need only be working with what feels like one application. For contact centre providers, our telephony solution is already deeply integrated into leading CCaaS platforms, providing agents and consumers with better, seamless experiences.
Trend 5 – Post COVID norms start to establish
In a recent poll, only 29% of the UK think life has returned to normal after COVID according to a March YouGov poll. In the workplace and the contact centre, some norms are beginning to become established about post COVID routines, but the final model for organisations is still to be settled. SMEs need to be able to plan to operate with flexible workforces.
Entering the pandemic, only 27% of contact centres had systems in place to support home working, but businesses were required to rapidly adapt to maintain business continuity.
By mid-2020, it was clear that contact centres were adapting to significant new ways of working: 77% of contact centres had 50% or more of their workforces at home during COVID. 83% of contact centre leaders said that they would be changing their business continuity plans. (Research by Pitch Marketing Communications in partnership with the South West Contact Centre Forum, Call North West, ContactBabel and Talkdesk).
Although some argue that COVID exasperated a home-working trend that was happening anyway, the pace of this change has been unprecedented: Home Office data showed the percentage working at home in 1981 was just 1.5%, rising to 5.1% by February 2020. It had accelerated to 43% by April 2020 and remained at 37% in June.
Looking forward, the last Government survey in June 2021 presented a mixed prognosis of how the overall working arrangements would take shape. 38% of businesses were found to expect 75% or more of their workforce to be at their normal place of work in future. 36% of those currently homeworking thought they would spend the majority or all their time homeworking in the future. Businesses had some uncertainty of when they would return, with 32% not sure. In the UK, the majority (88%) of employees prefer a balance of the two, as reflected in various surveys, such as one in April 2020 by Cybercrew.
Consequently, the consensus is that there is not a strong consensus. We can expect organisations to exist at both ends of the continuum with staff in purely home- and call-centre based roles, but most will sit in the middle, with hybrid models. Moreover, these models may still change over time.
Looking across industries and role-types, we can see that it is the nature of work that is often shaping the extent of remote working. For instance, 70% of those in professional occupations and 57% in secretarial/admin roles worked at home in April 2020. However, just 20% of those in skilled trades and 5% of process operatives did the same.
Contact centres appear to be moving increasingly to a part of the business and industry where home working is feasible: within 12 months of COVID, the UK Government research showed 89% of contact centre staff anticipated a remote working model to in place by 2029, despite the relatively low attention given to distributed call centres, prior to that point, by most companies.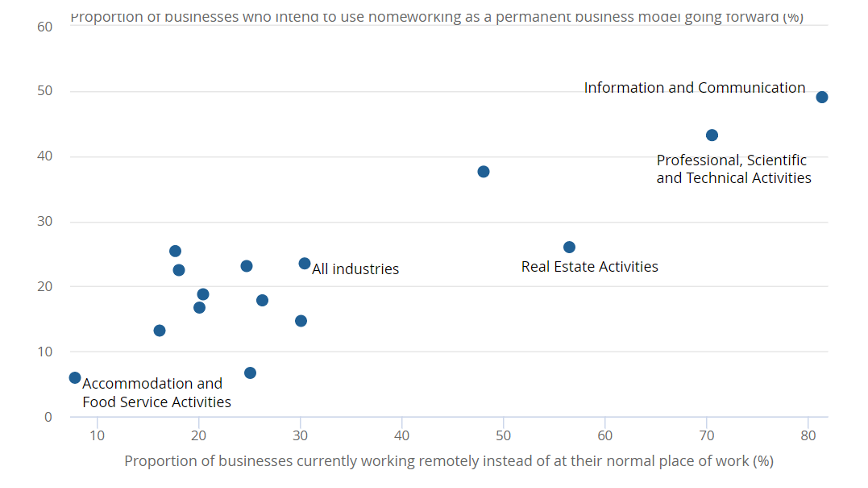 Until then, we can expect SMEs to deploy a range of hybrid models, with a gradual ongoing increase to a disparate workforce, driven in part by competition for the best employees.
Some barriers remain that said: data protection, trust in employees and the ability to support employees who had experienced a difficult customer interaction. Other considerations included team-morale and coaching.
To overcome them, both old and new contact centre technologies are now removing these barriers. For instance, screen recording products are allowing call centre managers and coaches to see and hear how their agents are performing. Quality management software can carry out tasks such as automating recordings, reporting and provide assistance for coaching. Gamification technology is also on the rise, as a means to incentivise engagement and drive performance. Expect all of these to increase in the coming 1-2 years.
It is clear that the future contact centre providers will need to respond to their client's needs for agility, partly to maximise their competitiveness for the best employees and then reduce attrition.
At TelXL, we helped one of our end user customers transition their entire retail operation to become a track and trace centre in days, we know very well how to respond rapidly when urgent circumstances demand it.

Our highly configurable technology, network resilience, security measures and scalability means that we are well suited for whatever "new normal" our clients choose. Moreover, our platform includes a range of quality management tools – including screen recording – to remove the further obstacles to seamless remote- or hybrid-working.
Sources
Contact Babel (2022), "The UK Contact Centre Decision makers guide 2022 (19th edition)"
Cybercrew (2020), "Working From Home Statistics UK Edition 2021", https://cybercrew.uk/blog/working-from-home-statistics-uk/
Home Office (2021), "Working from home UK statistics 2021-2022", https://thehomeofficelife.com/blog/work-from-home-statistics
SmartCube (2022), "Megatrends IT and telecoms", https://content.thesmartcube.com/hubfs/Infographic-IT-and-Telecom.pdf?hsLang=en
ZDNet (2021), "Top cloud providers: AWS, Microsoft Azure, and Google Cloud, hybrid, SaaS players", https://www.zdnet.com/article/the-top-cloud-providers-of-2021-aws-microsoft-azure-google-cloud-hybrid-saas/
Related Articles
Other Marketing news stories you may be interested in.